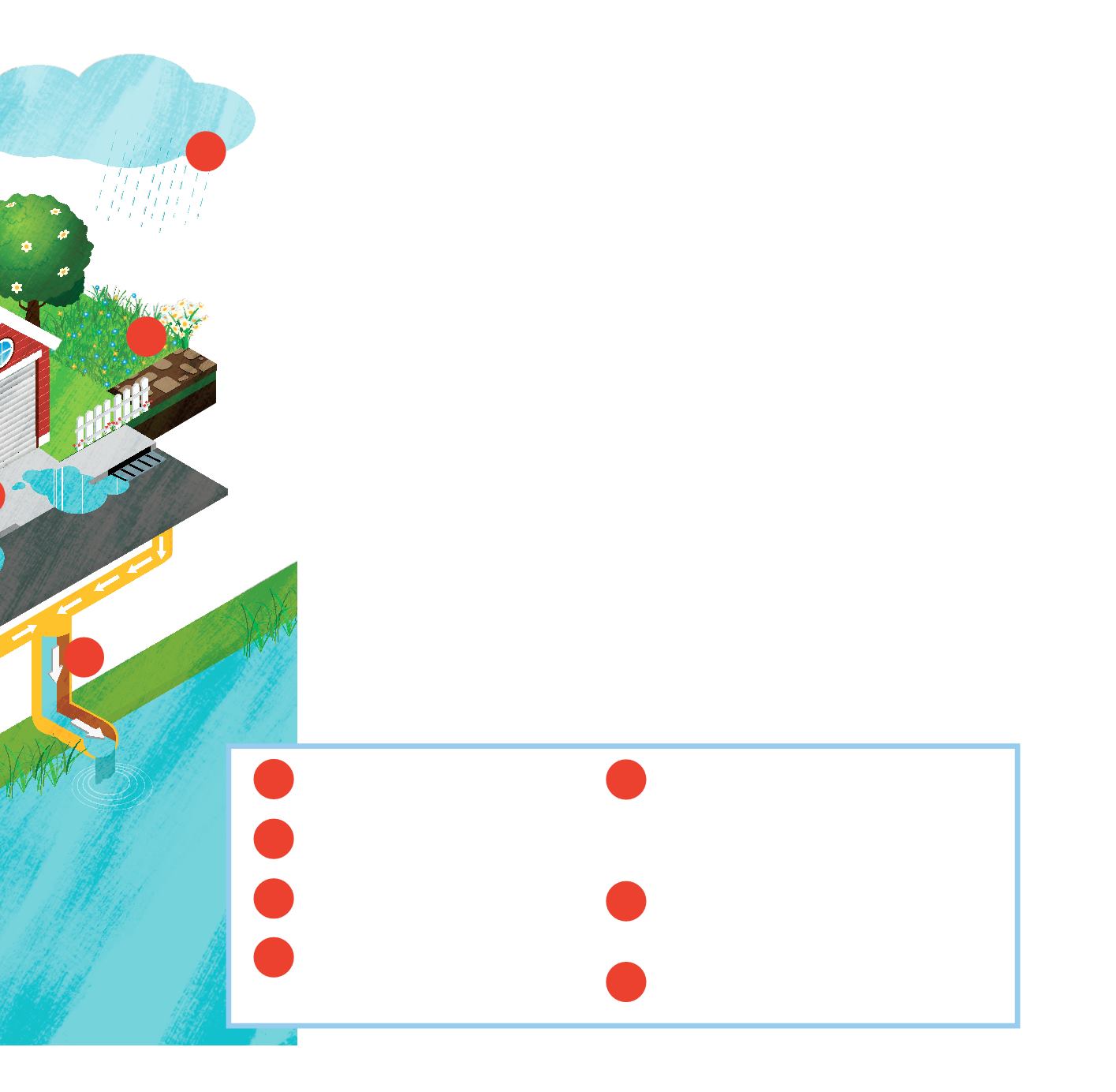 Difference between
stormwater and sewer systems
stormwater system
outside
of buildings. The system (which can
include storm drains, pipes, streams, ditches and ponds) is designed to reduce flooding.
When it rains, runoff from hard surfaces such as driveways and streets can flow into storm
drains, where it gets piped to nearby streams, lakes and Puget Sound.
Stormwater is not treated.
Only rain should ever go down a storm drain. Any pollutants
picked up by rainwater flow into our shared waterways where they can damage habitat,
harm fish and wildlife, and make water unsafe for fishing and swimming.
wastewater system
waste water,
sewer
, is designed to collect wastewater
indoors
. The wastewater system carries water from indoor sources like your sinks,
toilets and showers to a wastewater treatment plant where it is treated before being
released into Puget Sound.
Although this water goes through some treatment, the system is only designed to treat
basic waste such as toilet water and toilet paper. Toilet paper breaks down quickly when
wet and quickly dissolves. The tissue to blow your nose and "flushable" products like wipes
and scrubbers should also be disposed of in the garbage so as to not clog pipes. Household
hazardous waste should be taken to a special disposal event or facility where it can be
D
F
G
Why not just combine
the two systems?
• Treating wastewater is expensive. If we keep our rainwater clean, we should not have to
treat it or pay to have it treated.
• The fish and wildlife in our streams and lakes need the rainwater. If we piped it all to
wastewater treatment, we would deprive them of this precious resource.
• Wastewater overflows are harmful to the environment. In some places like small portions
of Seattle, Anacortes, Everett and Bremerton, the two systems are combined, which
can lead to its own set of problems. When a combined system gets overwhelmed with
rainwater, the excess stormwater and wastewater is released directly into the environment
without treatment. Always assume the water flowing into outdoor drains is not treated.
Drinking water
Indoor wastewater drains
Wastewater treatment plant
Stormwater system
Stormwater runoff
yards, etc. which may be contaminated with
sediment, motor oil, fertilizer, pesticides, pet
Rain garden
- filter and absorb runoff
from roofs or pavement keeping it from
becoming harmful water pollution.
Rain
A
B
C
E
F
G
D
Storm
Drain
Sponsored Newspapers In Education Content
5